How to make the best of your course | Encouraging Self-directed Learning Online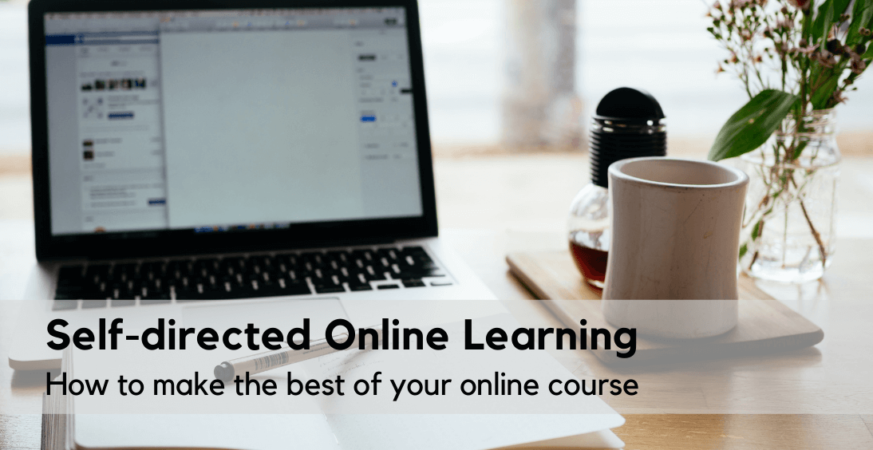 Online learning is exciting and offers a lot of flexibility: learning anything, anytime, anywhere. However the flexibility of learning online comes with a price. Online Learning requires a lot of abilities and skills: Self-directed Learning or Learning to learn online is a key competence for thriving in online courses.
O
nline Learning offers a lot of freedom. You can learn anytime, anywhere – that's the promise of various online learning platforms and online course providers. The other side of this flexibility is it's convenience: online learners are tempted to procrastinate or fail to engage with other learners along the learning journey, which often leads that learners drop out.
Online learning requires a certain skillset of the learner: Self-directed Learning or Learning to Learn Online. Self-direction – the willingness and capability to direct one's own learning – is a key competence for learners in order to accomplish their aims and finish successfully an online course.
Now, is self-direction something that learners bring along or acquire along their learning journey? Maybe it's a little bit of both. Either way, there are various ways to support learners in becoming more self-directed online.
Encouraging Self-directed Learning
Here are a few recommendations to encourage self-direction:
Take your learning into your own hands!
Online Learning has many advantages over off-line workshops, seminars or training courses: You can choose the time when you want to learn. You do not have to go to the seminar place and you can decide for yourself where you want to work. There are no teachers and no exams.
Online Learning offers many freedoms. At the same time it demands a lot of self-discipline.
Online Learning – like all ways of learning – does not happen by itself. Each module suggests a specific learning path. How often you review a module, how long stay with an activity and how how deep you dive, it's all in your own hands: you create your own individual learning path.
It's up to you to invest time, get started, and move step by step through the activities.
And only you will be able to review your progress in learning and assess the learning outcomes in the end.
Plan your learning!
Just like lessons at university or seminar sessions, learning online requires the time and energy you invest.
Some planning can help you:
What do you want to achieve? – Set yourself a goal.
When and where do you want to learn? – Reserve a specific moment during the day, e.g. in the morning after breakfast, in the tram on the way to work, the first hour of your working day or late in the afternoon before going out. It helps to schedule and reserve a specific time, make it a routine.
How much and how fast do you want to learn? – Imagine how long do you want to spend time on learning, e.g. 15 minutes every day, 30 minutes three times a week, 60 minutes once a week, etc.
Where is your focus? – Are you more interested in designing the course outline, creating the storyboard, writing scripts for video recording? Or all of them? Or something else?
Discover, experiment, try something new!
Being in another country is often a journey of discovery and has much to do with experimenting and trying out new things. This also applies to learning. Learning is a journey of discovery. Learning means experiencing and experienting. And learning also means trying something new.
The learning activities in this course also contain many tasks that invite you to think and reflect. Other tasks invite you to observe or try out something practically or even practise it in your everyday life.
Do not go over it too fast to cope with an activity faster. Take some time and let yourself be surprised where this leads you.
That may not be the same as your picture of learning. But learning can and should be fun!
Find out how you learn best!
If you follow the first three advice, you will not only learn about the course content, but also a lot about learning itself.
There are tasks that are easier for you, more fun. Such tasks are "easy to do" and time flies by. Some activities may give you al lot, others don't "talk to you". And there are tasks that take a long time and are more difficult for you.
As you observe your own learning, you learn a lot about the way you learn best. This helps you to better plan your learning process and make your learning more effective.
It is definitely worthwhile to know more about your own learning.
Be active!
Learning does not stop when you leave the platform and turn off the computer. The practical side of learning starts outside of online learning.
In everyday life we put what we have learned to the test. Discuss and share what you have learned with others. "Test" your take aways from the course with others within the online community, but also outside, with your colleagues and friends. And bring these sparks back to the platform.
Self-directed Learning: Tips to make the most of your learning journey
Here are six short tips that can help you make the most of your online learning experience.
We wish you a wonderful learning journey!
Source: This video has been created for the Online Course: Youthpass Heart Corps – Guiding the Learning Journey. This is a free online course available on HOP online learning platform starting from December 2020. Organisers: SALTO Training & Cooperation Resource Centre, National Agencies JUGEND für Europa (Germany), Anefore (Luxembourg) and Agência Nacional para a gestão do programa Juventude em Acção (Portugal).
Readiness for online learning
Are you learners ready for online learning? – Debbie Morrison (2014) outlines five of the most essential skills learners need to be successful with online course work:
basic computer skills,
digital communication,
Web search,
time management, and
collaboration skills.
Many universities offer questionnaires that address most relevant skills for learning. And in that way, they direct learners to aspects they might need to improve. Most universities have also excellent resources for learning about these skills. Some of them you find in Debbie Morrisons article Are You Ready to Learn Online? Five Need-to-Have Skills for Online Students or in the resources below.
Recommendations for course facilitators
Developing self-direction during the learning journey is key for mastering online learning. It is a process, one that is also facilitated and guided. Here are a few suggestions how to support learners in this process:
Outline expectations for learners thoroughly – Setting clear expectations enables learners to have a clear overall picture of the work that needs to be done,
Offer support during the enrollment and the first two weeks of your course – onboarding and getting started is a delicate phase where some learners require more support than any other. Introduce yourself as a support person, answer quickly (within twenty-four hour) and build your relationship upon that.
Support learners in developing self-directed learning skills – make them aware of self-directed learning and their active role in this, direct them to tools and resources that help them develop this skillset and finally, offer reflection on their learning process and progress.
Self-directed online learning is not the only way how participants learn. Online learning also involves interaction and communication with other learners. It is also about sharing, discussion and co-creating meaning in this process. However it puts learners into the driver's seat and take an active role in their learning journey. And this is a process that is guided and facilitated by you!
---
Resources
Videos on self-directed learning
6 tips to make the most of your online learning journey; Youthpass Heart Corps Online Course
Self-Directed Learning (Part 1) and Self-Directed Learning (Part 2)
Articles
Christopher Pappas (2015): Getting The Most Out Of Your eLearning Course: 10 Study Tips For Online Learners; via elearningindustry.com
Northeastern University (2020): Tips for Taking Online Classes: 8 Strategies for Success; via northeastern.edu
Debbie Morrison (2012): Five-step Strategy for Student Success with Online Learning; via Online Learning Insights
Debbie Morrison (2014): Are You Ready to Learn Online? Five Need-to-Have Skills for Online Students; via Online Learning Insights
Sidneyeve Matrix (2012): Quick Start Guide for Online Student Success. Time, project & self‐ management tips; via slideshare.net
Lerna Writing Team (2020): 21 Study Tips for Online Classes Success; via lerna.courses