Online Training Support for Volunteers in Uncertain Times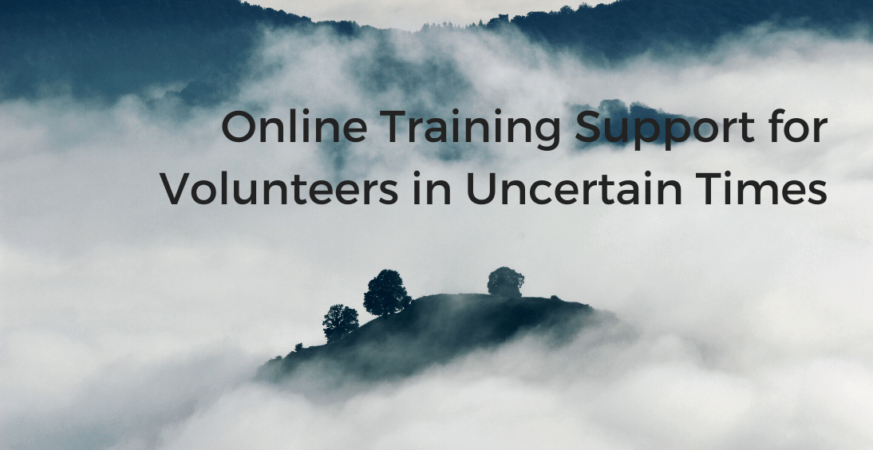 In March 2020, within a couple of days transnational mobility events within the Erasmus+ and European Solidarity Corps came to a full stop. Many organisations, trainers and facilitators asked themselves, how they are able to continue their work in times of lock-down and beyond. The idea of moving training activities online became very popular, however it takes a various considerations, before one is able to thrive online.
W
ith the lock-down in March 2020, a lot of volunteers within the
European Solidarity Programme
got stuck in their hosting countries. In Poland, only a minority of volunteers left their projects and returned home, while most of them stayed in their flat. Some are able involved with Covid-19-related
volunteering activities
, but most of them support their organisations with online activities, or just try to kill time. Others left Poland to visit their family and friends at home and could not return to their projects in Poland. Now, they are helping virtually from from home…
In another article HOP! Crash Course – from residential to online I already presented a case study on how a residential training was turned into an online event. This blog post is about moving the training support for volunteers in Poland online.
Training support for volunteers in Poland
Before Covid-19, we offered volunteers a six-day On-Arrival Training (40 working hours) and a five-day Mid-Term Meeting (34 working hours). Together with the team from the National Agency in Poland, in our pool of trainers we discussed several ideas on how to carry out these events online.
And it all started with some formal questions: would it be possible at all to go online with our On-Arrival Trainings and Mid-Term Meetings? Fortunately, this could be solved quite fast with an annex to our trainer's contract. This also meant, that we would keep the amount of content and working hours for both events when we go online.
Then, the recruitment process had to start from scratch in order to find out, how many volunteers are really in their projects in Poland and would be ready to join a training event. Parallely, in the last week of March, we started already to develop a concept and programme for Mid-Term Meeting, because it seemed to be more urgent to offer support for those, who are stuck in the middle of their time in Poland.
The situation of On-Arrival Trainings was even more unclear, because it was difficult to estimate the number of volunteers. (Update: We developed a concept for On-Arrival Trainings End of April. First training courses will start from the beginning of May).
Mid-Term Meetings: Three essentials to bring online
We wanted to offer volunteers an online programme, that would allow us to keep the main character of Mid-Term Meetings:
connect
A Mid-Term Meeting is first of all a meeting, not a training. It brings together experienced volunteers who already know their project and activities very well, built relationships with others and dived into the local community and culture. Volunteers went through many difficult moments and managed to overcome challenges. The value of a Mid-Term Meeting is to provide a space that volunteers can meet, connect and share their stories, talents and passions.
reset
Mid-Term Meetings often take place, when the first routine kicks in. It helps volunteers to leave their routine behind, reset and start over afterwards. The meetings offer a space to look back on the volunteering journey and reflect on experience made and one's own learning progress. This process invites volunteers to re-visit, why they left home and started a volunteering project abroad. It includes re-evaluating one's own motivation and goals for the project activities, finding solutions for difficult situations and conflicts as well as getting unstuck again if needed. It also means gaining more clarity for one's own future path and important life decisions to make, whether to stay in Poland, go "back" home or start over someplace elsewhere.
communicate
The Mid-Term Meeting takes volunteers out of their everyday routine to have from a distance a better look at their situation in their volunteering projects, but also in life as such. The Mid-Term Meeting is a space to reflect about one's own future, plans, ideas, visions, but also the many questions, uncertainty and fears connected with it. It's about, what they are good at (talents), what drives them (motivaiton/passion), what is important for them in life (values) and what is their mission/purpose in the light of all the opportunities out there. Mid-Term Meetings invite volunteers as individuals to use their encounters to get into deep and meaningful conversations about these questions.
Formats of Online Learning: Webinars, Online Training or Online Course?
Online Learning now consists of a broad variety of different formats. While some formats allow synchronous learning (= learning in a group of learners, that are engaging in learning at the same time), other formats support asynchronous learning (= instruction and learning does do not occur in the same place or at the same time).
If you compare webinars, online trainings and online courses (see below), online trainings mixed with some offline activities seemed to be most flexible and closest to a non-formal learning experience. And – considering the three essentials – Online-Live-Training with small group activities and discussions came closest to what we wanted to happen in an online event.
Webinars, Online Training and Online Courses
Webinar
A Webinar – short for web-based seminar – is "a seminar conducted over the Internet" (Oxford Dictionary). Most often a webinar is a presentation or lecture that is transmitted over the web using video conferencing software (see below). It includes short interactive elements like polls and gives a presenter the chance to give, receive and discuss information in real time. Webinars are short online events, 45-60 minutes, plus some time for questions & answers.
Online Training
The definition of an online training is not so clear. I would suggest to reserve this term for seminars or workshop, that are conducted online in real time (synchronous). Comparing to Webinars, Online Trainings are more interactive and include small group activities. The event feels more like a workshop and the process is facilitated. Online Trainings take place over a longer period of time, starting from 90 minutes. They can last a whole day or spread over a couple of days.
Online Courses
Online Courses as well are conducted through the internet. The course content is provided usually by a Learning Management Systems (LMS) and consists of various forms of multimedia content, that learners can access anywhere, anytime (asynchronous). The instruction – delivery of content – takes place on the learning platform, while each learner follows the course self-paced.
Of course, it expands your possibilities, if you mix these different formats!
Mid-Term Meeting goes Online
5 days online? – It seems like a lot of screen-time for our volunteers (and us as well). But with the right mixture of online learning formats it is possible to handle. We had a rough idea to switch between live events like interactive workshop sessions with small group activities and offline tasks, that could be carried out individually or in smaller groups.
We built the online Mid-Term Meeting with three main elements:
a morning check-in and an evening check-in (synchronous),
several sessions on various content (synchronous and asynchronous),
One 2 One Conversations (synchronous).
The morning and evening check-ins gave a frame for each days activities. We start with an energizer in the morning, pick up on some thoughts from the day before and then jump into language animation. In the evening we come together to review the day and check, if there is a need to change something. Both check-ins are live meetings in Zoom.
The sessions and activities during the day are introduced during our Zoom meeting, but mostly carried out individually, in pairs or smaller groups (on- or offline). For sharing and reflecting the work that has been done, we would all meet back in a live meeting and split into breakout rooms on Zoom.
One 2 One Conversations are individual conversations with a trainer to talk about difficult moments and challenges, sort out problems and conflicts or just answer questions. Volunteers can use this optional, but there is a reserved time-slot of half-an-hour each day.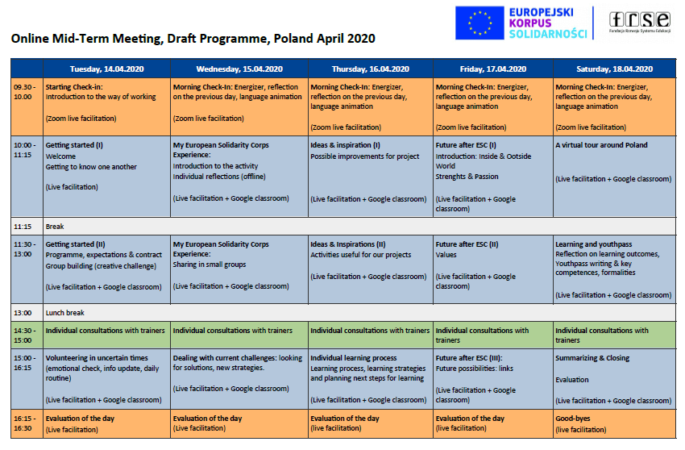 Download Mid-Term Meeting Programme Sample
We work from 09.30 to 13.00 (with a half an hour coffee/tea break). The One 2 One conversations would take part between 14.30 and 15.00. And in the afternoon, we would work from 15.00 to 16.30.
Our Zoom meeting room would stay open from 09.15 to 16.30 so that volunteers could contact the facilitators and ask for support.
Online Learning Tools
The main online platforms we used to carry out this programme were Zoom (for live events) and Google Classroom. Besides them, we used several digital tools in our activities to stimulate communication and to collect and share the outcome of individual and group work.
Zoom offers the option of breakout rooms, which gives the opportunity to work in pairs and smaller group (a feature that we used excessively!).
Classroom is a learning platform, that helped us to keep the programme flow, deliver content and practical activities, communication (mainly between trainers and volunteers, but also among participants) and sharing resources. Classroom is part of the Google Suite (Business and Education) und free to use until End of June.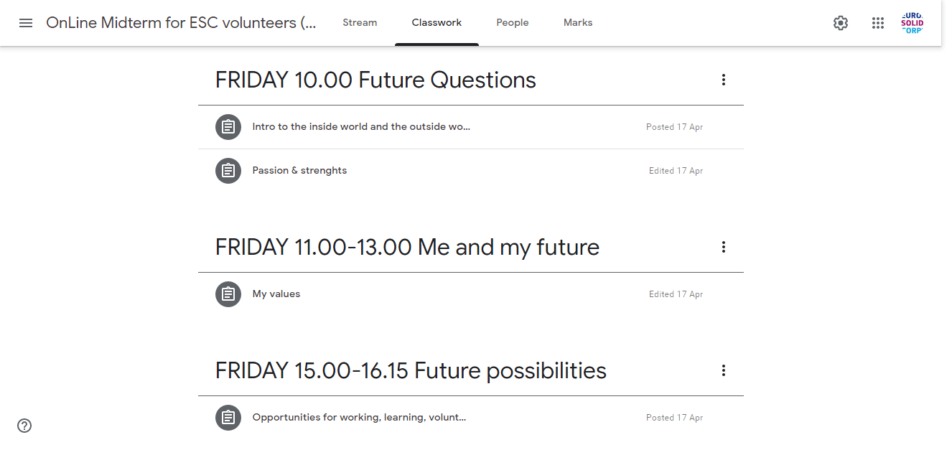 We used several digital tools, e.g. Mentimeter (to activate discussions), Padlet (to collect results of reflections and practical activities), Jamboard (for brainstorming and discussions) and Quizlet and Kahoot (for language animation).
Like in our residential trainings, most groups opened a whatsapp group to stay in touch throughout the online event.
Going online: Our experience
Writing this article, we have already 5 Mid-Term Meetings behind us.
What is our take-away from this?
"I appreciate your effort creating this online mid-term training. The education of the 21st Century will have to deal every day more and more with technology and this was a pretty good example of how to get a positive experience out of the difficult situation in which we are"
Skepticism and concerns
Not at the beginning, but during the online event, a lot of volunteers admitted that they were very skeptical towards online learning: in short, they thought, it would be boring, too long and did not see the sense of it. However, after one day of experiencing the online learning space, meeting others and listening to each others stories made them change their mind.
Building strong relations
The first day was full of live events, mostly meetings in small breakout rooms. Creating so many opportunities to meet in different constellations with different topics and tasks helped us breaking the ice, initiate group building and creating a strong community. Even more than in residential trainings, this is essential for the our online Mid-Term Meetings.
"Grateful for the trainers and volunteers dedication throughout the whole week of training, in this difficult time for everyone being a part of your classroom has given me purpose and has enlightened my days."
Screen-time and attention span
Still, isn't it too much? We all spend too much time in online meetings and yes, ZOOM fatigue is real. At the same time, the online Mid-Term Meetings answered an important need of volunteers which is not part of the minimum standards: it broke the isolation of the lock-down, gave them the opportunity to meet, share their feelings and build a community. In all five meetings, volunteers could not get enough of if: some of the evenings, we left the ZOOM meting room opened and everyone could join the informal gatherings: sit together and share about their countries and cultures, listen to music or just chat about anything.
The right mixture
One key to this success is also finding the right mixture between forum meetings, individual and small group activities, both on- and offline. Also a balance between sharing and reflection, between project and future related topics. This balance might look for each group different.
And yes, of course we had technical problems: every now-and-then someone was kicked out of the meeting. Some volunteers could only connect through their phone. And not everyone could access the digital tools we introduced with their device. And the living conditions didn't make it easier: a lack of working space in the flats, many distractions and a poor internet connection. We put a lot of thought into technical issues beforehand. During the meetings thez were present, but there was always a waz to work around them.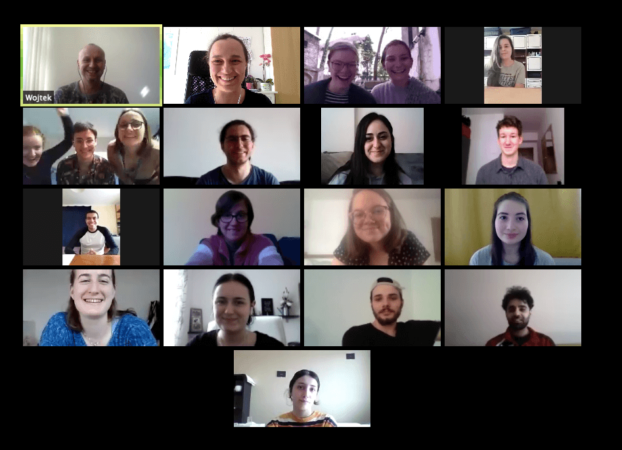 A closing note
Going online is quite a journey. At the same time, everyone of us hopes to return back to our residential training support for our volunteers. There's a lot we can do online, maybe more than we imagine, but not everything…
Trainers Pool | European Solidarity Corps
Ania Huminiak, Dagna Gmitrowicz, Eliza Zadłużna, Joanna Stompel, Joanna Wrońska, Kasia Szajda, Marta Brzezińska-Hubert, Michael Kimmig, Wojtek Spychała, Wojtek Szczepanik