Learn Polish Online | Free Online Platforms and Apps to Learn and Improve your Polish
Learn Polish Online. Polish is spoken by 50 million people, making it the 20th most spoken language in the world. This blog post shows you several platforms as well as mobile apps to start learning and improving your Polish (or any other language) NOW!
P
olish is spoken by 50 million people, making it the 20th most spoken language in the world. It is mainly spoken in Poland, one of the largest EU states in terms of population, but is also spoken among the Polish diaspora around the world, namely in Belarus, Ukraine, Lithuania, Latvia, the UK, the US, the Czech Republic, Russia, Brazil, Argentina, Canada, France, Australia, Ireland and Israel.
Even a few phrases can help you make friends and get much more out of your travel experience.
Click To Tweet
Polish language is part of the western branch of Slavic languages, and belongs to the Indo-European family. It is one of the more difficult languages to learn for people from Western Europe countries: especially its tongue-bending pronunciation, complex gender system and seven cases challenge its learners.
Polish is not the easiest language to learn. Set yourself a roadmap and learn some strategies for learning a new language in this article: Learning Polish Fast.
Learn Polish Online | Platforms
Duolingo is ideal if you want to get started learning and practicing a language on the go. The lessons are kept short. They touch on improving reading, listening, translating, and speaking. The game-like approach of learning keeps you going and motivated.
Duolingo Website
Babbel promotes language learning as learning-by-doing. The course material is broken into small blocks: grammar and vocabulary practice are built into units that focus on practical things, e.g. getting to know someone, ordering food, going shopping, sightseeing, etc. A 3 months subscription costs around 28,- $, but you may find discounts through affiliate markenders.
Babbel Website
Unlike other language learning platforms, Memrise uses recordings from native speakers, which gives you the opportunity to tune into real conversations.
Memrise Website
by Armen Abalian, Robert McAlister, and Michael French
With LearnPolishFeelGood you can learn Polish for working, travelling and/or reconnecting to your Polish heritage. It offers vocabulary and grammar exercises and lets you practise your knowledge through tests. It has an extra page for survival Polish dedicated for travelers.
LearnPolishFeelGood Website
by The Radio Lingua Network
With One Minute Polish you can learn the basics of Polish language. Short, one minute Polish will introduce you to a new language from scratch. Each language features ten lessons and each lesson is only a couple of minutes long giving you very basic introductions, which give you a feel for a new language. Even with just a few phrases you can make a great impression on your friends or the people you meet while you're travelling.
One Minute Languages Website Note: Polish is at the moment only available on itunes!
One Minute Languages Podcast (itunes)
The language course aims at teaching less used European languages, at forming minimal communicative competence of the target language and at introducing the target country and its culture. This project is the result of the cooperation of five countries: Estonia, Finland, Lithuania, Poland and Portugal with the Socrates Lingua 2 programme.
The Polish language course has 10 lessons that consist of several parts: a short grammar introduction with explicit explanations (Language School, Grammar); a lesson's dictionary (Language School, Vocabulary); a phrase set (Language School, Speaking); exercises to develop language usage competence (Language School, Exercises); and a short socio-cultural introduction to the country that is thematically related to the lesson (Information center).
ONENESS Website
by Tobias Holzhäuser
"Mówić po polsku" [pronounced "Moo-witch po polskoo"] means "speaking (in) Polish". Mówić po polsku is a free platform for learning Polish, addressed at beginners and intermediate learners. From basic words and phrases like "cześć" or "jak się masz?" over first conversations to basic rules Polish grammar, cases and tenses, Mówić po polsku provides hands-on language skills which can be used immediately. Videos and Podcasts help you learn pronunciation and new vocabulary, even while you're on the move.
Mówić po polsku Website Note: Mówić po polsku has a responsive theme, so it can also be used comfortably on smartphones and tablets.
---
Learn Polish Online | Language Learning Communities
busuu calls himself "the largest social network for language learning" – an app that is half language learning half social media. You can practice your listening, reading, speaking and writing skills and interact with native speakers.
busuu Website
Through Tandem you can find a partner for language learning. You teach your language and your tandem partner teaches you his/her language.
Tandem Website
HiNative is language learning with in a global community. You can ask questions about language and culture and get answers from native speakers.
HiNative Website
[optin-cat id=2324]
---
Learn Polish Online | Vocabulary Learning with Flashcards
With Quizlet you can learn Polish using various existing flash card collections. Or, you create your own collection of Polish words and phrases to learn, practise and remember vocabulary.
Quizlet Website
Brainscape is another platform where you can create your own flashcards and start learning.
Brainscape Website
Tutorial: How to use Brainscape by TeacherTalk
---
Learn Polish Online | Mobile Applications
Most of the obove mentioned platforms offer mobile applications, both for Android and iOS. Here are shortly a list of apps:
Duolingo | Available for Android, iOS and Windows
Babbel | Available for Android and iOS | Note: Unlike the web-version, Babbel's mobile app offers free content. You can check out Babbel. However, if you want to proceed to more advanced levels, you have to pay to download additional content.
busuu | Available for Android and iOS
Tandem
HiNative | Available for Android and iOS
---
Read also…
Learning Polish (and any language) fast!
Self-Assessment of your Language Competence with the European Language Passport (ELP)
Thoughts about Language: Seven Language Quotes
---
Pin for later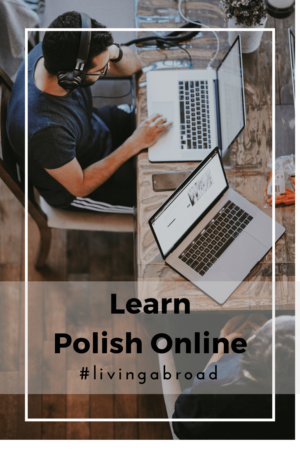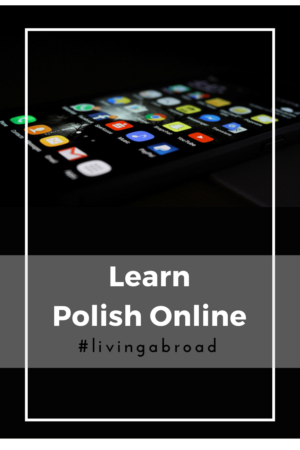 ---
[optin-cat id="2218″]