HOP! Crash Course – from residential to online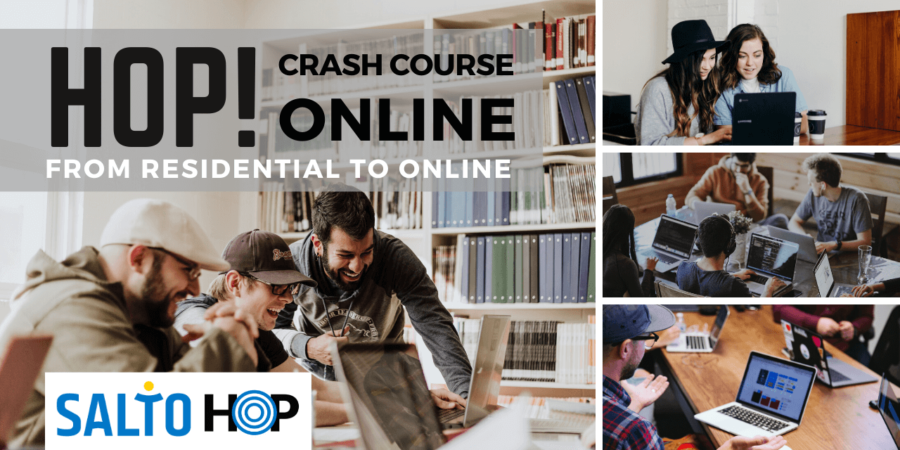 M
arch 2020. "The situation is very 'dynamic'", everyone kept saying. And it hit also the field of European Youth Work. Seminars and training events got first "on hold", then postponed or cancelled. Internationally and locally. And it all happened in couple of days…
The Finnish National Agency for Education (EDUFI) together with SALTO Eastern Europe and Caucasus (SALTO EECA) Resource Center invited to the "HOP Crash Course". This blended training with online elements and a residential meeting was supposed to take place from 18th to 20th March in Oulu, Finland.
The HOP Crash Course would have brought together authors/facilitators involved in online learning as well as representatives of both European programmes – Erasmus+ Youth in Action and European Solidarity Corps – and SALTO. It aimed at enabling them to plan, create and publish online courses on the HOP Online Learning platform.
Residential courses in uncertain times
The online part of the HOP Crash Course went off as planned. From the beginning of March, participants could explore the content of the online course "HOP! Plan, create and publish your first online course" . This self-paced course introduces participants to the basics of online course design and guides them in developing one's own course idea.
Everything went fine, until… well, until the thing, who should not be named, kicked in, and the situation changed drastically. As travelling became more and more difficult, first countries closed their borders and implemented rules for lock-down. Day-by-day, the situation changed. When #stayathome became the call to follow, we had to cancel the residential part of our blended training course
From residential to online
Many participants asked us, if we could not offer Webinars instead.
Why not? If the topic of our event is online learning, we could turn it into an online event. And slowly the idea took shape to go fully online. The idea for "HOP Crash Course ONLINE" was born, but there was only a few days left before its' start…
In a common effort, with the support of the Finnish NA, SALTO EECA and members of the SALTO HOP Council, we set up a new programme. The new schedule combined webinars and self-organised design groups. The whole series of webinar events was spread over a time of two weeks, starting from 18th March 2020.
The HOP Crash Course Online
We tried to keep the basic idea of the residential training. We offered inputs and discussions around online learning, course design, quality aspects for a non-formal online learning and learner's engagement. And we invited practical activities that would allow participants to explore the possibilities of the HOP platform and to develop their idea for an online course.
For the content, we would organise webinars events with clickmeeting. The practical activities would take place in self-organised virtual design teams. The overall programme we stretched over a period of two weeks to give the teams more time to organise and carry out their activities in-between.
Inputs and discussions during Webinars
The HOP platform

In the first webinar, we introduced the HOP Online Learning platform. HOP is a moodle-based online learning environment that offers a space for online courses of the Erasmus+ Youth in Action and European Solidarity Corps programmes. HOP is also a community of learners as well as a community of course authors/facilitators and course providers (National Agencies as well as the SALTO Resource Centers).
The webinar event showed the spectrum of SALTO HOP activities and some of the possibilities of the HOP platform. Tomek Szopa presented SALTO HOP and gave a short "guided tour" through the HOP platform. Snežana Bačlija Knoch and Dragan Atanasov gave some practical course samples from SALTO Training and Cooperation (YOCOMOodle) and National Agencies (ESC MOOC, EUtopia? Diversity in a Changing Europe).
SALTO HOP
HOP Online Learning
…is an online learning environment and offers a space for online courses of the Erasmus+ Youth in Action and European Solidarity Corps programmes.
HOP Online Communities
…are communities of learners, course authors/facilitators and course providers (National Agencies as well as the SALTO Resource Centers).
SALTO HOP offers…
Quality aspects of non-formal online learning
The second webinar event covered the topics how to ensure quality of online learning within Non-formal Education and International Youth Work and how to motivate and engage learners in online activities.
Snežana Bačlija Knoch and Laimonas Ragauskas lead us through a reflection on quality aspects of our field of International Youth Work field and gave ideas on how to implement non-formal learning online. In the second part, we discussed connections between online learning, non-formal learning and self-directed learning and addressed the topic how to encrease the motivation of learners and how to keep them engaged in learning online.

Technical aspects of course production
In the third webinar focussed more on practical and technical aspects of course creation and production and had the character of tutorials with a lot of practical tipps.
The first session was a follow up on learners engagement. Laimonas Ragauskas introduced us to the philosoohy of badges and gave practical advice on implementing badges into online courses. Michael Kimmig gave an overview of multimedia content. He showed how to add images, infographics, videos as well as external digital tools and interactive content to the course on HOP. A short presentation on how to create videos on a small budged, which technical equipment and software is needed closed this webinar event.
Good practise
We reserved the forth webinar to present a good practise example and a study on Webinar pedagogic (both form Finland). Furthermore we wanted to sum up and evaluate this online experience.
Pirjo Kovalainen introduced various online formats they use in their work with young people. Päivi Timonen gave us a sneak preview of her studies on webinar pedagogy and presented some outcome of her findings on how webinars could support virtual exchanges.
Michael Kimmig presented the SALTO HOP Council – a group of experts in online learning – and showed how their members could support course authors/facilitators in developing and publishing their online courses on HOP.
SALTO HOP Council
The HOP Council is a group of online learning experts. They support SALTO HOP and give coaching support to course providers and course authors/facilitators. During the stages of planning, creating and publishing an online course, the HOP Council offers:
guidance through first decision making,
feedback on the course concept/modules,
information and tips on how to include quality aspects of NFL and IYW,
information, tips & tricks on moodle functionality,
guidance on building the course within the HOP platform,
technical support for learners.
Contact us: HOP@salto-youth.net
Practical activities in design teams
The practical part of our online experiment took place in smaller groups. 3 to 4 participants built teams around one course idea or course topic. These interculturally mixed design-teams worked self-organised on their course ideas or existing online courses.
The practical activity aimed at introducing elements of non-formal learning into our online event: experiental learning, self-directed (or self-organised) learning and intercultural learning.

Every design group got their own "playground" on HOP to explore the possibilities of the HOP learning environment and get familiar with the administration side of the HOP platform.
The design teams recieved several tasks:
establishing an onboarding sequence for their course,
creating learning activities and adding multimedia content, integrating external digital tools or interactive content (H5P), or
designing and adding badges to their courses. The activities and experience made was part of a common reflection at the beginning of the next webinar event.
The activities and experience made was part of a common reflection at the beginning of the next webinar event.
Take away
Some impressions from participants voices…
Really useful both the practical sessions and the online tutorials.
The interaction between facilitators on the screen, practical and rational tips, diversity of energies and inputs, lot's of useful resources and information.
The effort to maintain the rhythm and rituals of residential trainings – morning energizers and reflection.
A completely intense and worthwhile learning experience.
I feel inspired to learn more and to be part of the authors of online learning community after this.
It has given me the knowledge to start developing and I know the support is there too if needed.
I just joined a design group on Wednesday and we are totally motivated to keep on playing and trying as we hope to go real in one way or another.
Having already participated in the construction of an online course on HOP I placed myself more in the role of the observer. And still, I learned a lot.
I had very little experience, so I could learn quite a lot.
Not too much new information, but well structured and accessible, covering all relevant areas, and mixed with practice opportunities, good job!
Thanks for being so flexible and offering the course online. and thanks for the great facilitation and support.
Thank you 1000! Great job, very useful, and very needed! Please keep it up!
*******
It's April 2020. The fourth week of an almost Europe wide lock-down. More and more people asking themselves now, how they can move online with what they are doing.
Going from residential to online means jumping into uncertainty. It demandes a lot of learning-by-doing and includes failures and setbacks.
Is if possible? Yes! Is it exciting? Definitely! There is already a lot of experience in our field of Non-formal Learning and Youth Work. With HOP, we were able to bring some of it together.
HOP Crash Course Online | Resources
Programme
Download HOP Crash Course Programme
Articles
HOP from residential to online – HOP Facebook page
HOP from residential to online – SALTO EECA FB page
Webinar recordings
The playlist to curate video materials relevant to non-formal online learning in youth work sector. The collection connects with HOP online learning platform, offering online courses within Erasmus+ Youth and European Solidarity Corps.
Webinar Recordings – Youtube Channel
Youth Work Tools
YouTrain – Educational Video Tutorials. Project "YouTrain" is a long-term strategic partnership. It aims to increase the quality, reach and impact of non-formal education activities by creating a video toolbox for educators.
Innobox – Designing digital services. Innobox is a toolkit that helps youth workers innovate new practices in a longer process.
Verke – Publications on Digital youth work
Good Practise Examples
What is youth information? – A video on youth information and youth counselling and the work of a youth information worker, by The European Youth Information and Counselling Agency (ERYICA)
Lauha, Heikki & Nõlvak, Kati (eds): Digitalisation of Municipal Youth Work in Finland 2019, Publisher: Verke & EYWC
Research
Ruhalahti, S., Söderlund, M., & Timonen, P. (2018). Students' experiences of collaborative learning on digital youth work cMOOCs. HAMK Unlimited Scientific 21.11.2018.
(last visited 05.04.2020)